Sorry for this long post, but I had a PM to post some pics. Not sure how to post pics in a PM and the space is limited so I decided to put it here.
The following is the removal of the steering rack/mechanism for a Steermaster helm and cable on an 84 Stars and Stripes. The write up is in reverse order...sorry for that....
In the last pic, you can see the slot for the key that is on the shaft in the coupler I removed and the key itself in my hand. That is the extent of the pics I took. I think next you need to remove the pressure fitted washer that is on the shaft with a pair of flat head screwdrivers. Then you remove the large allen bolt from the hole in the bottom side of the chrome house attached to the dash. Once this is done, the steering rack/mechanism will simply slide out of the back and you can pull it along with the cable all in one piece out together and work on them. Sorry if any of the pics I inserted are not working. If they are not, let me know and I will email them to you. I have never placed pics in a PM before so not sure I did it right.
Then you can remove the coupler that is affixed to the steering rack with a slotted key by hand, although it is a bit tight and you may need to use a screw driver for assistance. See the pic....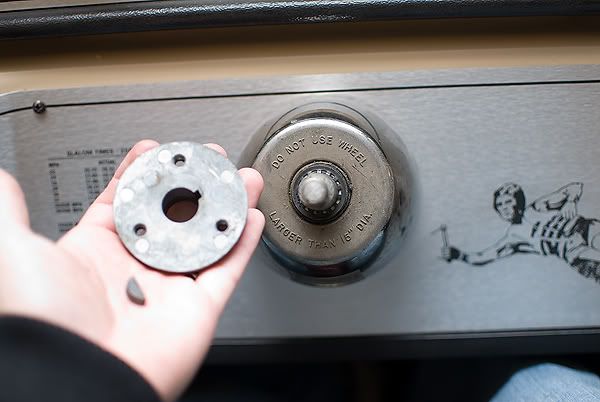 Then you can remove the collar that sticks over the coupler that is affixed to the steering rack which sticks through the helm mount. It looks like this and is remove by hand...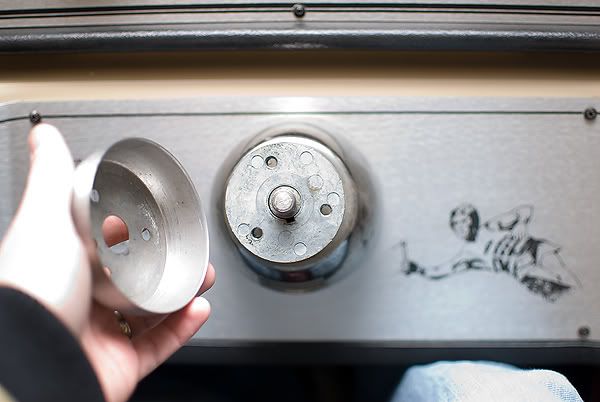 Next simply remove the steering wheel as it should be loose. You will be left with this...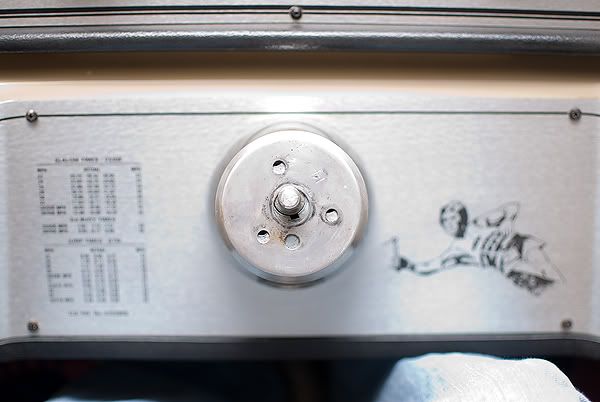 In this one, you can see the plate the comes loose once you remove the three bolts. This plate is in front of the wheel and is the plate that gives the center cap its pressure fit...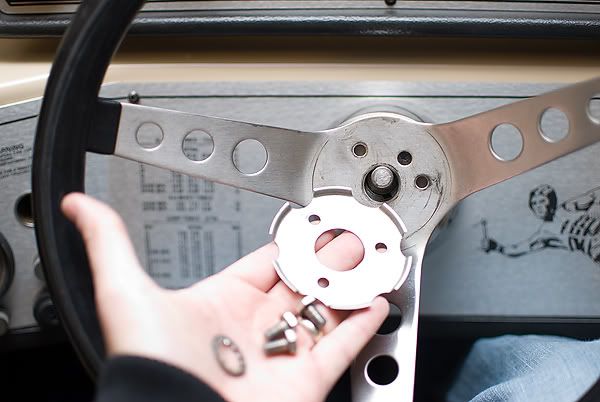 In this pic, you can see me removing the center nut first which has a lock washer behind it...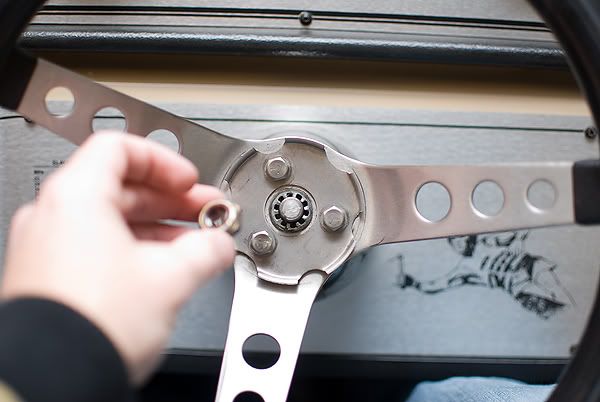 You will see what I am talking about in the next few pics. I will do my best to describe what I am talking about.
In this one you can see me taking off the first piece of the steering wheel which is held on by a simple pressure. You can use your hand to remove. This exposes the center nut and three bolts which I mentioned before may have been as many as 5 (I forgot exactly how many)...