STAR POWER
The XStar is known worldwide as the ultimate pro-level wakeboard boat. But there's more to the story. Here's five high-wattage highlights about this 23 footer that makes it easy for everyone to love this legend.
.01 BOMBASTIC SURF
The best wakeboard boat ever is also a super versatile surf machine. Big and steep, long and clean...waves are one-button easy and paired to profiles so no matter your size, age or ability level—the entire fam gets to shred.
.02 ADAPTABLE AND APPROACHABLE
The XStar is the only boat on the market that has great wakes at slower speeds, too—making it easy to learn on and adaptable for all skill levels. And because it surfs so well, there's always fun for everyone—regardless of what kind of board you bring.
.03 SUBSTANCE AND STYLE
The XStar comes standard with top shelf features including dual screen dash with 10-inch touchscreen, ZFT 4 tower and clamping board racks, a superb 8 speaker Klipsch audio system, Ilmor 5.3L engine, a FastFill ballast systems so you're ready to ride in under 3 minutes, and...well, you get the idea.
.04 SUPER SPACIOUS
At 23 feet long with room for 16 passengers, your crew will be stoked on the plush seating and roomy interior. Beneath these bolstered seats: 122 cubic feet of cavernous storage for boards, ballast, bumpers, coolers, towels, and whatever whatnot you'd like to bring.

.05 THE BIG PICTURE
High performance doesn't mean you have to the sacrifice reliability. Every MasterCraft is guaranteed for 5 years with a factory-backed warranty and an outstanding dealer network to keep you on the water.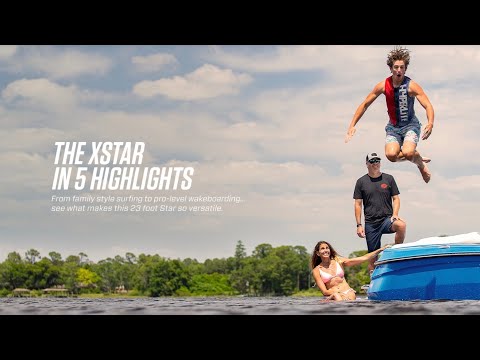 More Videos +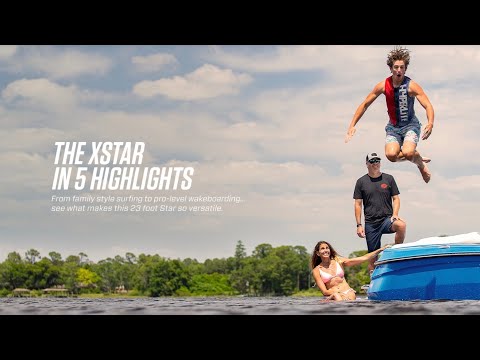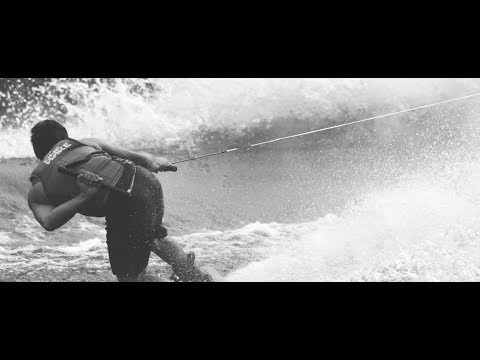 Specs
Boat length

23' / 7.01 M

Beam

102" / 2.59 M

Interior width *

87" / 2.21 M

Weight

5800 LBS / 2631 KG

Ballast with Gen 2

4100 LBS / 1860 KG

Fuel capacity

76 Gal / 288 L

Capacity

2400 LBS / 1089 KG

Draft

32" / .81 M

Boat height **

126" / 3.20 M

Hull

Vector Drive

Seating

16 People

Color options

Infinite

Storage

122 cu Ft / 3.46 cu M

Wake
Thick - Rampy Wake w/ Crisp Lip
Surf - Powerful Wake Shape

Activity
Wakeboard - Recreation (18-22 mph)
Wakeboard - Competition (23+ mph)
Wake Surfing (10-12 mph)

Starting from USA MSRP

$160,320 *Excludes freight & prep
* Interior Width is measured from fiberglass inner gunnel to fiberglass inner gunnel.
** Boat Height specs reflect the height of a ZFT4 tower to the lowest point of the boat's running gear.
View More
BOAT GALLERY